How does the project work?
Every time that I make tour I will take 10% of proceeds and donate directly to poor schools. Eventually we will do the same for local families in need.
What do we do in the project?
We will buy school supplies and any other necessities to offer to poor students that they nor the schools can not afford.  Every three months we will take whats been saved up from donations and tours and chec
k what the students need.
Who are we going to work with?
We will find the poor schools in the Battambang are, especially in the villages, and work with the school director and ask them what the students need most.  We will eventually extend this to families.
Why do we do this project?
Many poor students have no opportunity to continue their study with several reasons but the major one because of the family problem that means they are poor.  Lack of education is one of the most critical problems in Cambodia and contributes to poverty, the lack of options in life, and political distress.  We believe education and investing in the future generation will save lives and rebuild Cambodia.  So we hope that our contribution will help them to continue their study and have the better future.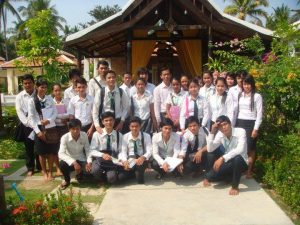 Want to help and support the project?
If you want to support this project you just book the tour with us so we will cut 10% already from what we earn to our community.  Just by taking a wonderful tour of Battambang you are also helping the community.
However if you want to support us more you are warmly welcome. If you are interested to bring and buy some school supplies by yourself and want to give them directly we can organize that for you. We accept all kind of your help so with school things, fund and even your knowledge and ideas you can share with us to make our community better.
In the future when we have some donors I plan to make the school that provide free education for them.
We hope that you will join us and make our dreams come true! If you'd like to donate directly, click the button below.